Patch 2.2 arrives today with the Carnival of the Ascended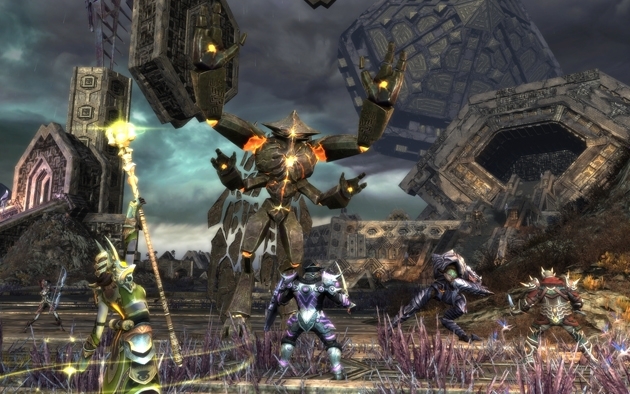 Last year, Trion rocked the world of Telara with a huge anniversary celebration to mark a year since RIFT's launch. With festive dragon parades, games and contests, the Carnival of the Ascended filled the cities of Meridian and Sanctum with cheer and splendor. Now that new lands have opened up in RIFT: Storm Legion, the celebration has grown to include the harbor city of Tempest Keep.
With Patch 2.2 landing on live servers today, the greater Carnival of the Ascended begins today!
This year, the Carnival has grown to include more contests, giving you more opportunities to lay your hands on the glass beads needed to obtain those coveted mounts, colorful hats and other collectibles. The Carnival prize stall is also stocking a new special anniversary cape, allowing you to show off your Ascended pride throughout Telara.
For those of you looking for something besides mirth and merriment, Patch 2.2 also brings in a new warfront. The Wheel of Fate randomly decides which opponents you will face, in a points-based PVP battle. The Steppes of Infinity will also see an as-yet-unknown special zone event, with the threat of the Storm Legion still lingering.
The Planar Attunement system is also expanded today, with tier three attunements now available on all six planes. The second tier of planar attunement has also been added to PvP planes, increasing the amount of adventures available.
If you've yet to experience the might of the Storm Legion, Trion are also offering a free weekend from March 21st to 25th this year. With several changes since the expansion launched last year, it's a great opportunity to dust off your veteran characters and see them for yourself. Subscribers will also be getting a seasonal boost, enjoying a 20% boost on XP, planar attunement and many currency gains between March 21st and April 4th.
For more information on Patch 2.2, check out Trion's dedicated page. And don't forget to try out RiftHead for your entire item, soul tree and quest needs!
Gareth "Gazimoff" Harmer, Senior Contributing Editor